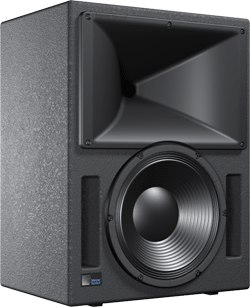 Meyer Sound has added the compact Acheron Designer screen channel loudspeaker to its EXP cinema line.
Developed in close consultation with leading film sound designers and postproduction facilities, Acheron Designer brings the low-distortion and quality of the other members of the EXP series to sound design studios, sound editing suites, as well as private screening rooms and small theatres.
The seventh loudspeaker in Meyer Sound's EXP cinema product line, Acheron Designer is the smallest in the family. Measuring 19-inch wide, 25.37-inch tall, and 14.62-inch deep, it is well suited to installations where space behind the screen is limited.
With an operating frequency range of 3Hz to 18Hz and a peak output of 130dB SPL, the Acheron Designer claims to 'render the most demanding digital soundtracks with a wide dynamic range and full fidelity'. The patent-pending horn is designed to have a soft roll-off outside the coverage angle, while the loudspeaker's low 580Hz crossover point is optimised cinema applications as it directs most of the dialogue signal through the HF horn.
A proprietary Meyer Sound two-channel amplifier powers the 4-inch high-frequency diaphragm compression driver and 12-inch low-frequency cone driver independently. Convection cooling of the rear-mounted, recessed heat sink allows the Acheron Designer to be placed against a wall when necessary.
Production prototypes of Acheron Designer have been in use by several noteworthy development partners in California, including Skywalker Sound, Bay Films, and 20th Century Fox Sound EditorialDepartment. 'Everybody is very happy with the sound and headroom of the Acheron Designers,' says John Morris, Supervising Sound Editor and Sound Designer at 20th Century Fox. 'The speakers sold themselves.'
More: www.meyersound.com