The Alcons CRS8 is a two-way passive-filtered, full-range loudspeaker, designed to meet all requirements of current and future immersive surround sound formats. Featuring proprietary pro-ribbon driver technology, it combines clarity and intelligibility with an unusually high dynamic range.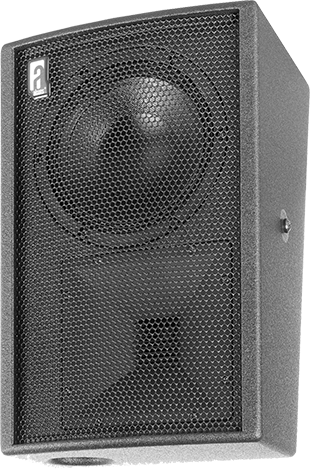 The CRS8/9090 system consists of the RBN401 pro-ribbon driver for HF and a vented 8-inch mid-bass for LF reproduction. The CRS8 HF section has an 800W peak power input, enabling a unique 1:16 dynamic range with up to 90 percent less distortion from 1kHz to beyond 20kHz. Due to the 'compression-less' principle of the pro-ribbon transducer technology, the system has a fully linear response, with the same tonal balance at all SPLs for 1:1 performance.
The patented (90°) horizontal and (90°) vertical dispersion of the waveguide, offer a wide and consistent coverage up to the highest frequencies (20kHz -3dB). Driven by the Sentinel amplified loudspeaker controller, the Signal Integrity Sensing pre-wiring ensures dynamic cable/connector compensation between the CRS8 and ALC; This offers a 1:1, undistorted natural sound reproduction, regardless of cable length and amplifier impedance.
Typical applications include (height layer) immersive surround sound systems for performing arts theatres, screening rooms, postproduction facilities and dubbing stages, premium home cinemas and quality-conscious PLF cinemas.
The RBN401 is Alcons Audio's most-applied pro-ribbon driver, with thousands in use daily, as critical part of the line-array systems in particular. Now with the integration in the CRS8 reference surround, the wide 90° x 90° dispersion becomes available for larger point-source applications, where extended full-bandwidth coverage is required.
'Immersive sound is now coming up in a wide variety of applications, demanding a diverse choice of dispersion patterns,' says Head of R&D, Philip 'Dr Phil' De Haan. 'Following our initial designs with the patent-pending waveguide technology on the RBN202 pro-ribbon platform, very successfully deployed in the VR5 and CRMSC-SRHV systems, we focused on applying our new waveguide development onto our 4-inch pro-ribbon transducer platform.
'The missing link has finally arrived, for a perfect voicing-match with the other RBN401 pro-ribbon loaded main- and surround systems, completing the seamless 3D immersive experience.'
The CRS8/9090 is available in two impedance choices: 8Ω for efficient parallel connection in 5.1/7.1 configurations, and 4Ω, for maximum amplifier efficiency in individually-amplified immersive surround systems.
More: www.alconsaudio.com