KV2 Audio's most compact loudspeaker to date, ESD Cube is an ultra-compact passive 5-inch loudspeaker using a trans-coil design for vocal clarity, high frequency response and dynamic range – claiming lowest distortion of any comparable loudspeaker in its class.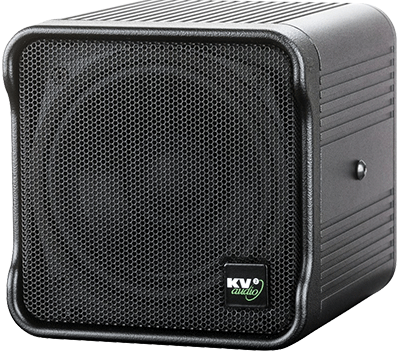 The ESD Cube may be used as a standalone system with up to eight Cubes powered by a single ESP1000 amplifier or with the ESD1.10 single 10-inch passive subwoofer for applications requiring more low-end reinforcement. One ESP1000 amplifier will run up to four Cubes and two ESD1.10s. A simple, proprietary flying bracket completes the system for a low profile look and easy installation.
Housed in a durable aluminium enclosure available in any RAL colour, its compact dimensions suit it to discreet, high quality peripheral and/or distributed sound reinforcement including bars, hotels, houses of worship, museums, tourist attractions and corporate venues.
The ESD Cube's trans-coil AIC (Active Impedance Control) technology is used in a number of KV2 products to optmise phase response across an extended frequency range. 'What sets the Cube apart from similar offerings by other manufacturers is the trans-coil technology incorporated into its 5-inch twin cone speaker,' says According to KV2 founder and Chief Engineer, George Krampera. 'We had already seen excellent results using our AIC technology in other, larger systems, and I was determined to develop it still further for the Cube. The results have been beyond our own expectations, with perfect phase response, increased dynamic range and the lowest distortion of any speaker in its class.'
'The Cube is our small solution to many of today's big audio problems,' says KV2 Audio Sales Director, Dave Croxton. 'How do you fill an area with high quality sound without seeing the speakers? How do you create dynamics, richness, and musicality from a speaker that is not much bigger than your hand? How do you extend frequency range and reduce distortion without the use of a compression driver? The Cube solves all of these problems and more. Anyone with a venue where the priority is high quality audio in an ultra-compact, discreet format with an accent on design should be talking to us.
More: www.kv2audio.com