Danley Sound Labs has announced a new Cinema Line of loudspeakers, subwoofers, and DSP-enabled multichannel amplifiers.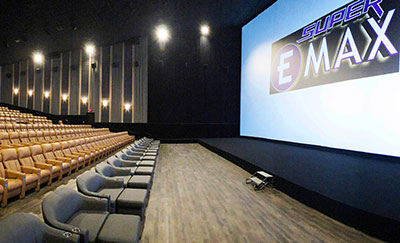 The Cinema Line loudspeakers start with the CJ-1894 and CSH-1196, claiming 'reference-monitor fidelity' at up to 142dB and 136dB SPL continuous output, respectively. Intermediate models include the CSH-996 and CSH-496, for large to small theatres, depending on output needs of channel assignation. The smaller CS-100S and CS-8CX are for smaller theatres or surround sound channels at up to 120dB and 115dB SPL, respectively. The CS-100S is built with a 20° down angle for simple surround sound installation.
The subwoofer line comprises the CBC-418, capable of 148dB SPL of continuous, directed low-frequency energy. At 142dB SPL continuous, the intermediate CBC-218 approaches the output of its larger sibling, and the smaller CTH-118XL and CTH-50 subwoofers address large-to-small theatres, depending on requirements.
To accommodate different system sizes and output requirements, Danley manufactures the DNA 20k4Pro (four channels, 20kW total), the DNA 10k4Pro (four channels, 10kW total), the DNA 10k8c (eight channels, 10kW total), and the DNA 3k8c (eight channels, 3.2kW total). All of the units feature comprehensive loudspeaker and circuit protection, as well as analogue, AES and Dante connectivity.
'Our new Cinema Line shares the same fundamentals of our existing product line – however, in the process of working with the engineers, designers, and installers on projects for cinema, we came to understand the unique needs of the market and we have incorporated those needs into our new cinema line,' says National Accounts Manager Skip Welch, the person in charge of the new Cinema Line.
Now the head of Danley Sound Labs, Tom Danley worked for 15 years at Intersonics – a NASA contractor and rival to Jet Propulsion Laboratory – where he generated 16 patents for acoustical devices that found their way into research rockets, zero-gravity aircraft flights, and space shuttle payloads. This experience prompted him to adopt unconventional solutions to sound reproduction, his 'first and enduring love'.
'Tom's unique designs are far superior to conventional loudspeaker designs,' says National Accounts Manager Skip Welch, the person in charge of the new Cinema Line. 'The Synergy Horn and Tapped Horn patents allow Danley to build horns with numerous drivers that combine to create a single, phase-coherent source that performs uniform output across the entire frequency spectrum. The multiple drivers give Danley boxes incredible output, and the patented acoustical summing creates ultra-low distortion that does not appreciably increase with volume. These boxes are made for movies.'
More: www.danleysoundlabs.com