Work Pro Audio has launched the WSF 500 CX and WSF 10 CX Plus passive full-range projector speakers.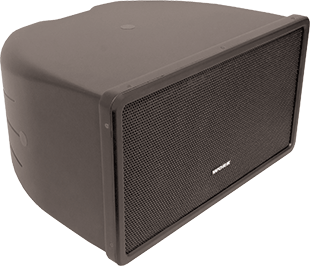 At 1kW and 300W respectively, the WFS 500 CX and 10 CX Plus are two-way designs incorporating horn-loaded 10-inch diameter transducers with 2.5-inch voice coils in a bass reflex enclosure paired wuth a 10-inch exit compression driver, a 1.75-inch voice coil mated to an 80° horizontal x 60° vertical horn, to deliver consistent coverage across the vocal range.
Designed to be both elegant and durable, the speakers are visually discreet and are enclosed in black or white weather-resistant fibreglass that can withstand adverse environmental conditions. Both also incorporate an aluminium grille covered with a protective water repellent fabric and four-pole electrical connection cables that enter the enclosure through a cable gland, preventing water, dust and moisture from damaging the transducers.
The 500CX is a low impedance speaker, while the 10 CX Plus is available in low and high impedance versions and includes a high-quality 120W rms@100V line transformer, making it suited to installations where long cables need to be deployed.
More: www.workpro.es