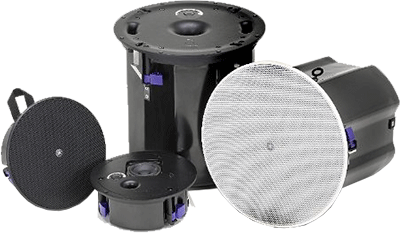 Yamaha's VXC and VXS loudspeaker ranges are being expanded with the VXC2F 2.5-inch full-range, low-profile ceiling speaker and VXC8S 8-inch bandpass ceiling subwoofer.
Developed from Yamaha's VXC8 full-range ceiling speaker, the VXC8S is the first ceiling subwoofer in the VXC range. Designed for background music playback, its band-pass type structure, with a frequency response of 44Hz - 280Hz, sensitivity of 88db SPL and power (Lo-Z: PGM 200W, Hi-Z: 3.8W to 60W in 4/5 steps) suit it to retail stores and larger restaurants where additional LF is needed.
Featuring a newly-developed 2.5-inch driver, the VXC2F is the shallowest model in the VXC series, with a depth of 76mm. Weighing 1.9kg and with a diameter of 225mm, its shallow depth belies its exceptional performance, with a conical coverage angle of 160º, sensitivity of 86dB SPL, a frequency response (-10dB) of 67Hz-20kHz and power rating (PGM) of 30w.*
With switchable Lo-Z (8Ω)/Hi-Z inputs, the VXC2F is suited to background music playback, thanks to its wide dispersion combined with superior power and frequency response. The shallow depth and low weight makes it very installation-friendly, along with a magnet catch grille, carrying handle and black or white (paintable) colour options.
Mounting options include the PK-C4 pendant mount kit, available in black or white (paintable) finish.
Measuring 325mm wide by 315mm deep, ease of installation is optimised with features including anti-drop tab, carrying band, magnet catch grille and black or white (paintable) colour options.
The VXC2F and VXC8S are scheduled to ship later in 2019.
More: www.yamahaproaudio.com