The Alcons Audio CRMSC-SRHV/120 reference surround is a two-way passive-filtered full range loudspeaker, designed to meet the requirements of current and future high-resolution surround sound formats. Typical applications include (height layer) surround sound system for high-end mix/screening rooms, quality-conscious postproduction facilities and dubbing stages.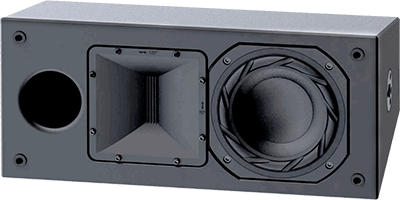 Featuring Alcons pro-ribbon driver transducer technology, the CRMSC-SRHV/120 surround combines an clarity and intelligibility with an unusually high dynamic range using a single RBN202 pro-ribbon driver for HF and a vented 6.5-inch mid-bass for LF reproduction. The HF section has a 500W peak power input, enabling a 1:16 dynamic range with up to 90 per cent less distortion from 1kHz to beyond 20kHz. Due to the 'compression-less' principle of the pro-ribbon transducer, the system has a linear response at any SPL.
A defining property of the enclosure is its very wide dispersion pattern. With patented (120°) and patent-pending (90°) dispersion at up to 20kHz, it offers a very wide and consistent coverage and significantly extends the stereo 'sweet-spot' throughout a room.
The rotatable RBN waveguide enables a precise projection-matching of the listening area.
'The CRMSC-SRHV120 follows our initial designs CRMSC-SRHV and VR5 with the patent-pending waveguide technology,' says Alcons R&D Head, Philip 'Dr Phil' De Haan. 'Now we were able to extend the dispersion of the RBN202 transducer up to a very wide 120° by 90° over the entire bandwidth from 1kHz to 20kHz. This is the very first time ever that a (pro-)ribbon transducer reaches this extreme coverage with this constant directivity. The resulting imaging and sound-stage needs to be experienced to be truly appreciated by the listener.'
By using identical MHF components, voicing matching between screen and surround system is achieved, resulting in an exceptionally wide and uniform sound stage throughout the entire listening area. As a result of Alcons' tight manufacturing standards, all system cabinets are within 'matched pair' tolerance.
The Signal Integrity Sensing pre-wiring ensures complete cable/connector compensation between the CRMSC-SRHV/120 and ALC, significantly increasing response accuracy, regardless of cable length and system impedance, with tight and accurate mid and bass response as result.
More: www.alconsaudio.com