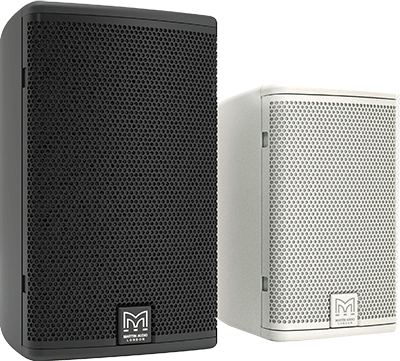 Martin Audio has announced the Adorn series of on-wall loudspeakers, promising class-leading performance, reliability and value in a wide range of commercial sound installations ranging from from retail stores to the boardroom.
Adorn loudspeakers are designed for distributed sound applications that require high performance from visually-discreet, ultra-compact enclosures. They also provide a seamless sonic transition within a multi-zoned complex using larger Martin Audio systems such as CDD or BlacklineX.
Featuring a 4-inch and 5.5-inch driver, the two-way Adorn 40 and Adorn 55, respectively, are available in black or white as standard and can be readily painted to match any interior décor and architectural environment.
The loudspeakers have a nominal impedance of 16Ω, enabling four or more speakers to be driven in parallel by one amplifier channel, thereby maximising efficiency and minimising cost. Their 'T'-designated options are fitted with an internal high-quality 70V/100V multi-tap line transformer with a switch to select the output level.
'The commercial install market for loudspeakers is significant and growing, and the Adorn series is targeted to win over specifiers, system integrators and installers by offering stunning sound quality in a diminutive, attractive and competitively priced package,' says Martin Audio MD, Dom Harter.
More: https://martin-audio.com