Clair Brothers TrueFit Technology – a modular and fully customisable waveguide system available – was devised to optimise frequency dispersion within a room space by adjusting the horizontal waveguide to enhance directivity throughout an entire unique. Seeking a 'ready-fit' product option for small- to mid-sized venues that have overall geometrical similarities – but where budget prohibits the use of kiTCurve-TrueFit – Clair Brothers has released the kiTCurve-TrueFit Landscape and kiTCurve-TrueFit Portrait models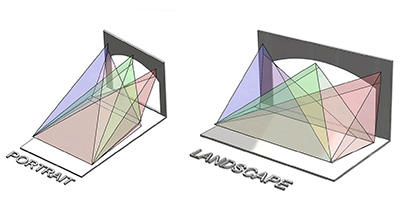 After deploying kiTCurve-TrueFit systems in several custom projects, the engineering team identified a pattern of room-dimension commonalities. For similarly-sized 200- to 500-seat venues, two prevalent room shapes include one that is relatively shallow front-to-back, yet wide side-to-side, and another that is rather deep, but narrow.
'If you think of these two room geometries in terms of photography formats, a strong comparison would be landscape and portrait, where shallow and wide is landscape and narrow and deep is portrait,' Clair Brothers Chief Design Engineer, Josh Sadd explain. ' It's all about capturing the horizontal plane angles within the dimensions of a given room.'
kiTCurve-TrueFit Landscape and kiTCurve-TrueFit Portrait offer an intermediate choice between the standard, 90° horizontal product and the fully customised TrueFit system.
'For the price of a close-to-custom TrueFit system, a venue will be much nearer to having a custom-tailored sound than if it spends its budget on a standard curve system,' Sadd concludes. 'Money is saved on engineering time. kiTCurve-TrueFit Landscape and Portrait models are a true fit all the way around.'
More: www.clairbrothers.com