The Danley Sound Labs Mini 180 installation loudspeaker promises 'even, seamless coverage' across 180° (by 90° vertical) and a frequency response of 149Hz-20kHz (±3dB) with linear phase response. Maximum output is 119dB SPL continuous and 125dB SPL peak.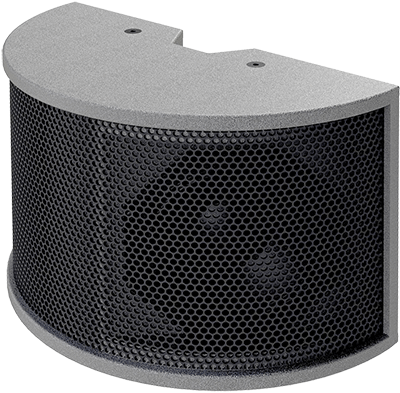 'Folks have been asking us for a 180° loudspeaker for a long time, and the Danley Mini 180 meets that specification with sound quality that makes Tom [Danley, designer] proud to put his name on it,' says Danley President, Mike Hedden. 'We made it easy to use – it only weighs 45 pounds and mounts easily on a pole or on a wall. In fact, it's easy to put two Mini180s back-to-back on a pole for instant 360° coverage with Danley's seamless coupling. There's no shortage of applications, from houses of worship to sports complexes to farmers markets and beyond. Also, clients can rest easy that overambitious users won't blow the speaker up. The Danley Mini 180 uses Sentinel Limiter protection circuitry.'
The Danley Mini 180 uses two eight-inch drivers and proprietary technology to couple them into a single point-source loudspeaker with 180° coverage. Polyurea coated 13-ply, 18mm Baltic Birch makes the loudspeaker durable but still light, and its modest size (12.5-inch x 18.5-inch x 9.-inch) makes the Danley Mini 180 easy to fit into a wide range of applications.
The Danley Mini 180 is now shipping.
More: www.danleysoundlabs.com