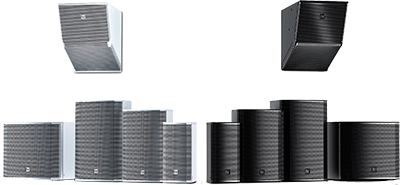 Joining the Electro-Voice EV-Innovation family of installation-dedicated loudspeaker systems, the five-model EVC series is designed for small/medium-sized installations requiring affordability and reliability.
Three (8-inch, 12-inch, 15-inch) two-way trapezoidal models are available for use in a wide variety of applications where wide bandwidth, vertical and horizontal directivity control, and high efficiency are required in a compact, cost-effective package. Two coverage patterns are available for each size; waveguides are rotatable. The Variable Intensity (VI) model features a 12-inch two-way design with a unique compound waveguide that can evenly cover a defined rectangular audience area with almost no variation in sound quality and minimal change in level. An 18-inch subwoofer completes the line-up for use with any of the full-range systems.
The EVC series can serve as a single-series source to cover applications ranging from single-room dance studios to high-SPL foreground music in multi-room bars, small clubs and restaurants. They are also voiced and styled to compliment more extensive and varied installations utilizing other EV-Innovation models – EVA (line array), EVF (front loaded), EVH (horn loaded), EVU (ultracompact) – including academic, hospitality, house of worship, live performance, recreation and sports venues.
Super-durable EV Coat is standard (in black or white) on all models. Weather-resistant PI versions are available for enhanced resilience against the elements, with stainless steel grilles, hydrophobic cloth and a dual gland nut cover for the input panel. Secure installation is straightforward via multiple M10 suspension points and attachment points for an optional U-bracket or OmniMount style pan/tilt wall mount.
For 70V/100V operation, the input panel has an internal landing pad for mounting EV's high-quality TK150 audio transformer. When the transformer is installed, it engages EV's patented Automatic Saturation Compensation (ASC), which preserves low-frequency performance while presenting a stable load to the amplifier – regardless of the number of loudspeakers connected in parallel. As a result, EVC loudspeakers – including the subwoofers – sound virtually identical, whether they are used with a transformer or without, and system electronics are protected.
EVC models:
EVC-1082 (8-inch two-way).
EVC-1122 (12-inch two-way).
EVC-1122/VI (12-inch two-way Variable Intensity).
EVC-1152 (15-inch two-way).
EVC-1181 (18-inch subwoofer).
More: www.electrovoice.com