Vue Audiotechnik has announced two additions to its e-Class range of high-definition, ultra-compact architectural speakers – the e-351 Nano Coaxial Cube and the VueDrive V242 Systems Engine join the e-352 in the line of high-output, high-fidelity systems.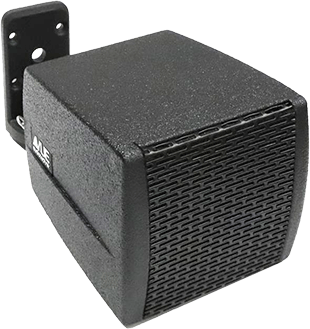 The new e-351 Nano Coaxial Cube uses a 3.5-inch woofer that combines a large, high-temperature voice coil with a neodymium magnet assembly for improved heat distribution and distortion-free operation across a broad frequency range. Coaxially mated to the woofer is a custom beryllium-infused, 25mm compression tweeter. The tweeter's horn is built through the pole-piece of the woofer's neodymium magnetic assembly. The coupling optimises space while dramatically improving efficiency and high-frequency dispersion.
A precision-engineered passive crossover network is precisely mated to the e-Class drivers and optimized to work in concert with the DSP in the new VueDrive V242 Systems Engine. The rackmount V242 has been engineered specifically for use with e-Class systems. Highly sophisticated DSP maximises response accuracy while providing both maximum power transfer and transducer protection.
Drivers and crossover are housed in a compact and elegant die-cast aluminium enclosure that is significantly more rigid and resonant free than typical plastic designs. The aluminium enclosure also works as a highly efficient heat sink for onboard components, further enhancing e-Class efficiency. Finally, the aluminium is innately corrosion and moisture resistant, making the e-351 well suited for use outdoors and in harsh weather applications.
The resulting combination of transducers, crossover, DSP and cabinet allow the e-351 to deliver unprecedented fidelity with resonant free operation from 120 Hz to well above the range of the most discerning human ear (27kHz). The e-351 also achieves peak sound pressure output above 112dB SPL at 1m.
'Balancing SPL, size and fidelity is not easy,' says Vue CEO, Ken Berger. 'Most compact speakers prioritize either output or sound quality. Vue e-Class is the result of a multi-year development effort to change that commonly accepted trade-off. Thanks in large part to our work with beryllium, and the advancements we've made with DSP technology, the e-Class systems deliver both esoteric audiophile quality and professional sound pressure levels while being extremely elegant and compact.'
More: www.vueaudio.com