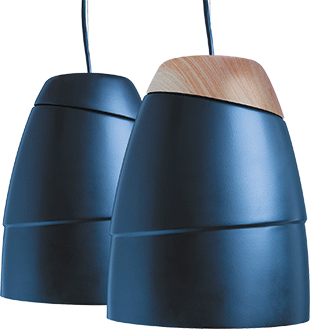 A/V equipment manufacturer Work Pro Audio has announced the SoundNut series of high-powered pendant loudspeakers for installation applications.
The first product in the range, the SN8, a two-way 400W coaxial pendant speaker with an 8-inch bass driver. Like all forthcoming members of the SoundNut range, the SN8 is a high-resistance, high-powered installation speaker (8Ω, 400W, 125dB maximum SPL) designed to reproduce audio with a flat frequency response from 98Hz-19kHz and uniform acoustic coverage across a wide, 90° area.
The speaker itself features an innovative, frameless and screwless magnetic grille which can be detached in seconds for easy access to the drivers. The housing can also be custom-coloured to blend into its install environment as required, with a choice of colours available for its top section. Weighing just 8kg, 290mm in diameter and standing 365mm tall, the SN8 is a discreet, low-profile choice with the power and durability needed to deliver audio with maximum clarity and intelligibility in any install environment.
'Everyone wants powerful installation speakers, but they have to be as unobtrusive as possible – and, of course, deliver great sound too,' explains Work Pro Audio Chief Sales Officer, Juan Jose Vila. 'Our design team has been working hard to produce the optimum combination, and the result is the new SoundNut range. Speakers that are small and discreet enough to pass for light fittings, especially with the custom-coloured housings – but sufficiently large to deliver the power, dispersion, frequency range and clarity required.
'We will be announcing further additions to the series in the near future.'
More: www.workpro.es