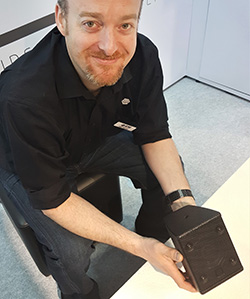 EM Acoustics has expanded its EMS Series of loudspeakers with the launch of the ultra-compact EMS-41.
The EMS-41 is designed for a variety of close-field monitoring and background music applications, particularly where a compact, discreet solution is required for intelligible audio distribution over wide areas. It's also suited to theatrical spot effects, fill and delay, as well as background sound or indeed corporate and A/V use. Thanks to its space-saving coaxial design, high SPL capability, extremely compact dimensions and sober appearance, EMS-41 blends into any environment.
'The EMS Series is, quite simply, our best-selling range ever,' says EM Acoustic Operations Director, Mike Wheeler. 'Featuring our signature passive crossover design, it's a hugely versatile range suitable for both mobile and fixed installation, as a stand-alone system or as a complement to larger systems… the list is endless. The development of the baby of the range came about mainly because it's what our customers were asking for – they wanted an ultra-compact version to give them even more options and even more flexibility in front of their clients. And, as the customer is always right, we were only too happy to oblige.'
The EMS-41 is expected to be shipping by July 2018.
More: www.emacoustics.co.uk