Martin Audio's O-Line micro line array has been given improved coverage, consistency and control when driven by the company's new iKon amplifiers and updated Display array optimisation software.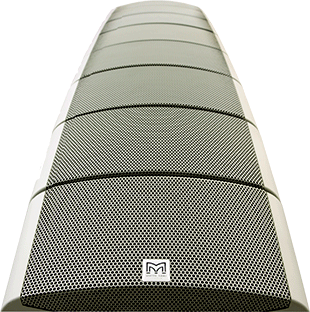 O-Line's versatility has seen it used a wide variety of architectural applications – from houses of worship to transport terminals. In many applications an O-Line array can be driven using only one amplifier channel, with simple EQ and limiting the only processing required. However, it can now also be used with an iKon iK81 eight-channel amplifier with onboard DSP to independently control and power each individual enclosure.
'This unlocks the full potential of O-Line – further refining coverage consistency and increasing the ability to 'dial-out' the influence of the room by accessing Martin Audio's Display software functionality. The 'hard avoid' capability and electronically adjustable coverage make it ideal for the most difficult acoustic spaces.
This can also enable additional benefits to any installation. More often than not, many installations can suffer from height restrictions and the combination of both mechanical and DSP optimisation can compensate this challenge. There is also the scenario that following an installation something changes in the venue and rather than have to de-rig and re-rig, electronic optimisation alone can provide a level of coverage change.
Similarly, it may be that the venue is multi-purpose with changing sizes of audience and so by using Display with VU-Net control it's possible to have different presets to cater for these coverage changes without the need to re-rig.
Unlike many DSP 'steered' columns, an O-Line array does not produce vertical sidelobes in the audio band. This is critical in reverberant environments as sidelobes firing above and below the array simply adds to the reverberant energy, impacting on intelligibility. O-Line's ability to reproduce very high frequencies without sidelobes makes it the ideal solution for both full-range speech and music reproduction in reverberant spaces.
An O-Line array is finished in a neutral light grey that blends into the background of most architectural spaces, with modular design in multiples of four cabinets. Sonically, it is very clean and musical, and capable of surprisingly high output levels for its very small size, with 16 cabinets capable of an astonishing 134dB [peak] and a throw distance of up to 40m.
'O-Line has been a tremendous servant to the company, not only for its prowess with challenging acoustic spaces, but also because it laid down the groundwork for the development of MLA technology,' says Martin Audio MD, Dom Harter. 'It's fitting that events have come full circle, and that recent developments of Wavefront Precision and iKon amplifiers, that borrow so much from MLA, have now enabled extra powers of coverage, consistency and control for O-Line – making it the definitive column micro array solution.'
More: https://martin-audio.com