Meyer Sound has adds the Ashby Series self-powered ceiling loudspeakers to a family of installation products incorporating the company's IntelligentDC technology. The two new Ashby loudspeakers join seven surface-mount models in the existing IntelligentDC line. Typical applications include restaurants, hotels, airports and other transit terminals, corporate boardrooms, and high-end retail locations.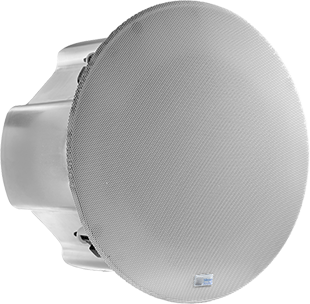 The Ashby Series comprises two flush-mount models: the Ashby-5C with a 5-inch low-mid cone driver and the Ashby-8C with an 8-inch low-mid driver. Both employ a concentric 0.75-inch metal dome tweeter and are housed in integral, quick-mount metal backcans with Phoenix connectors for quick, simple installation in new or retrofit systems. The innovative dual-driver concentric design provides a uniform 100° dispersion pattern, allowing use of fewer speakers to cover a wide listening area.
As with other IntelligentDC models, Ashby loudspeakers connect to a remote MPS-488HP rackmount unit that supplies both balanced audio signal and 48V DC power for the amplifier. Connections are made using a single five-conductor cable, and because no conduit is required by fire codes in most jurisdictions, the cables can be placed in open troughs with quick termination on five-pin Phoenix connectors. Cable lengths of up to 450ft (127m) are accommodated with no more than 1dB loss using 18 AWG wire, and longer runs are possible using heavier gauges. In addition, remote monitoring of individual loudspeaker status on a Windows or Mac computer is available with the addition of the optional RMS module, RMServer and Compass software.
'The Ashby loudspeakers are a long-awaited addition to our IntelligentDC line,' says Meyer Sound VP of R&D and chief loudspeaker designer, Pablo Espinosa. 'Now integrators can combine both surface-mount and flush-mount models in the same installation using the same power supply and signal distribution units. This allows complete freedom for architects and consultants in system design, while also simplifying installation and reducing rack space requirements.'
In addition to the two Ashby models, the IntelligentDC line includes five full-range loudspeakers (MM-4XP, UP-4XP, UPM-1XP, UPJunior-XP, UPJ-1XP) and two subwoofers (MM-10 and UMS-1XP).
More: www.meyersound.com