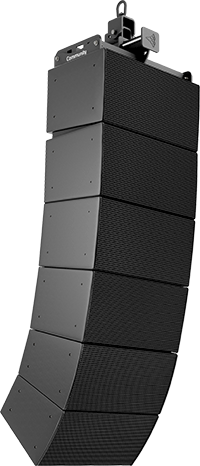 Community Professional has expanded its I Series family with the announcement of the IV6 Modular Vertical Array 600 system.
Aimed at both installed indoor and outdoor applications, IV6 is a scalable, adaptive sound reinforcement system featuring wide-dispersion IV6-1122 array elements (12-inch, two-way) available in two complementary vertical coverage angle versions (5° and 15°). Up to 5° of splay between elements eliminates excessive overlap or coverage gaps – overcoming the physical limitations and acoustical tuning difficulties of conventional line arrays and constant-curvature arrays, while maintaining the best qualities of each in long-throw line arrays, medium-throw progressive curvature arrays and compact constant-curvature arrays. The single 18-inch IV6-118S subwoofer can be flown above or behind any array to provide additional low frequency impact.
OnboardPassive Acoustic Optimization (PAO) settings on the rear of each loudspeaker allow up to 55 frequency response profiles to be independently selected for each element in the array, providing unmatched SPL and frequency response consistency throughout a listening area without requiring costly additional amplifiers or DSP channels. Community's PAO module included within Ease Focus 3 software quickly calculates the ideal PAO settings for each loudspeaker.
Community has collaborated with trusted audio rigging manufacturer Polar Focus to design a variety of colour-matched array frames that seamlessly integrate with Polar Focus' wide variety of install-friendly array-to-structure hardware.
IV6 loudspeakers are available in textured black or white finishes for indoor applications, and may also be ordered in weather-resistant versions featuring Community's PolyGlas enclosures and optional powder-coated stainless-steel hardware for outdoor applications. All IV6 loudspeakers are made in the US at Community's headquarters in Chester, Pennsylvania and will begin shipping in Q1 2018.
More: www.communitypro.com