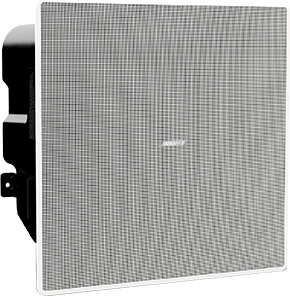 Bose Professional's new EdgeMax in-ceiling loudspeakers feature proprietary PhaseGuide technology, optimising coverage and improving sound quality over conventional designs.
Intended for mounting near wall boundaries, EdgeMax loudspeakers project high-frequency sound throughout rooms up to 65 feet (20m) wide using only perimeter mounting locations, and can effectively cover an area that would require up to four conventional conical-coverage models. They can eliminate the need for conventional ceiling speakers mounted in the centre of rooms, or surface-mount loudspeakers mounted on walls.
Additionally, their consistent coverage pattern allows EdgeMax installations to reduce the total number of in-ceiling loudspeakers required, enabling installers to move efficiently through the installation. EdgeMax loudspeakers produce high intelligibility for speech and full-frequency response for music, making them suited to retail, commercial, industrial, institutional and conferencing applications.
The loudspeakers are available with two horizontal coverage patterns – EM90 models provide nominal 90° horizontal coverage and are intended for in-ceiling mounting near room corners, while EM180 models provide nominal 180° horizontal coverage and are intended for in-ceiling mounting near wall boundaries centred along target coverage zones. Both models feature 75° asymmetrical vertical coverage, which is optimised for ceiling heights between eight feet and 20 feet.
More: http://pro.bose.com