Distinguished from Acheron Designer systems during development and comparative testing by its blue waveguides, Meyer Sound's Bluehorn claims to offer flat amplitude and phase response from 25Hz to 20kHz in a large-format loudspeaker for the first time.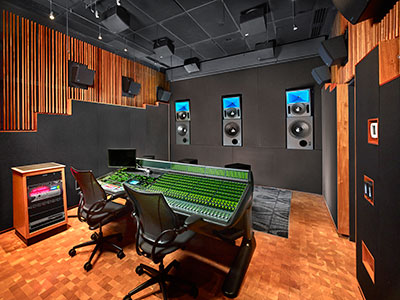 The product of more than six years of intensive research, Bluehorn applies advanced proprietary algorithms to cancel out the nonlinearities inherent in all mechanical transducers and loudspeaker cabinets, resulting in aural neutrality.
Among the first cinema professionals to take delivery of a Bluehorn System was film composer John Powell, who installed an LCR Bluehorn System in his private recording and mixing facility (5 Cat Studio) in Pacific Palisades, California.
'We initially brought the Bluehorns in on a temporary basis for a specific project, but we wouldn't let them leave the building,' Powell says. 'It was blatantly obvious when something was wrong in the mix, and that is the most useful quality I can imagine from monitor loudspeakers.
'For the work that I do, I need monitor loudspeakers that do not flatter the music at all,' he continues. 'I need to hear exactly what is going on in an unbiased way. I have no time when working to enjoy what we did right; I need to hear when things are wrong so we can fix them, and I can hear those problems better with the Bluehorns. I need to be confident that everything is in its proper place, because then the music translates smoothly as we move through to the final mix.'
Bluehorn is designed for high-resolution monitoring applications in mid-sized rooms for music recording, cinema postproduction, music mastering or other applications requiring the highest accuracy in sound reproduction. Externally, Bluehorn shares the same cabinet footprint, driver dimensions and waveguide configuration as Meyer Sound's Acheron Designer loudspeaker.
On the inside, however, Bluehorn uses an upgraded HF driver and new amplifiers with ultra-low noise and distortion. Unique to Bluehorn is the dedicated processor that sits in front of both the mid-high loudspeaker and the companion low-frequency cabinet. The system-specific correction algorithms hosted by the processor were developed by analysing all physical and electrical nonlinearities throughout the system from 25Hz to 20kHz, in order to bring acoustic output – at any level – into absolute phase and frequency alignment with the input signal. Essentially, the processing nullifies the non-linearities of drivers and enclosures, resulting in a phase-coherent response previously achieved only by open-air electrostatic headphones with their extremely low mass diaphragms.
'This is a loudspeaker that is ideal for people doing music for film because it behaves in the room like a cinema loudspeaker,' Powell says. 'It gives us projection like we would hear on the dub stage, yet it also has that extra layer of audiophile quality. Bluehorn lets us hear deeper into the music and resolve problems right away, knowing that even the dub stage might not offer that level of accuracy. It's the best of both worlds, really.'
In his cinema work, Powell first used the Bluehorn Systems for mixing music for Jason Bourne, the latest in the Bourne series of spy thrillers, and is currently working on music for another animated family feature, Ferdinand.
'That extra level of clarity in Bluehorn makes it easier to analyse your mix, but these are not necessarily loudspeakers you want to listen on to flatter yourself,' he admits. 'You hear what is right with your music, but you also hear what is wrong so you can fix it. And that's really the point of monitoring, isn't it?'
Complete Bluehorn Systems are available in either stereo or LCR configurations, with each channel comprising a two-way mid-high loudspeaker, a separate low-frequency element, and dedicated digital processing.
More: www.meyersound.com