Focusrite's new Red 8Pre recording interface offers 64 inputs and 64 outputs and eight Focusrite digitally-controlled mic preamps.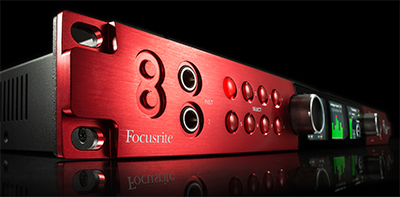 In common with the Red 4Pre, the Red 8Pre sports two front-panel, high-headroom instrument inputs, dual Thunderbolt 2, dual Pro Tools HD DigiLink and Dante network audio connectivity. The eight Red Evolution mic preamps claim 129dB EIN and 63dB of gain. Software control allows recall of settings and stereo linking, plus configuration of HPF, polarity invert and individual phantom power. In addition, the preamps and other parameters can be adjusted from the front panel's multifunction controls and colour LCDs. The preamps include Focusrite's 'Air' effect, recreating in the analogue domain the sound of the transformer-based mic preamps in the classic ISA range.
The Red 8Pre's high-performance conversion system features what Focusrite calls 'parallel path summing', where two matched converters are run in parallel to increase the signal to noise ratio. They operate at up to 192kHz, 24-bit sampling with a dynamic range of 118dB (AD)/121dB (DA). The Red 8Pre delivers ≤0.0009% THD+Noise and has a frequency response flat from 20Hz to 35kHz ±0.25 dB or better. Levels at the Red 8Pre's monitor outputs are adjusted via a Digitally-Controlled analogue Attenuator. This allows them to deliver full dynamic range at all signal levels, rather than using digital attenuation on the DA.
Dual Thunderbolt 2 ports connect to a DAW while allowing daisy-chaining of drives and displays. Round-trip latency as low as 1.67ms permits recording with preferred plug-ins in real-time and simplifies workflow – no need for cue mix utilities or outboard DSP – while dual DigiLink ports connect the Red 8Pre directly to any Pro Tools HD system.
In addition, the Red 8Pre features built-in Dante network audio connectivity. The dual Ethernet ports connect any Dante-compatible product, such as units from Focusrite's RedNet range, adding up to 32 channels I/O via Ethernet wherever there's an Ethernet network – with low latency and cost. Focusrite Control the user assignment of any physical input or output to any driver/Pro Tools HD channel making it easy to customise the interface layout and integrate hardware inserts.
Key features:
· Eight Red Evolution Air-enabled mic pres.
· 24-bit 'parallel path summing' dual converter configuration operating at up to 192kHz (118dB AD/121dB DA dynamic range. ≤0.0009% THD+Noise, 20Hz-35kHz ±0.25dB or better.
· Dual Thunderbolt 2 ports for daisy-chaining.
· Direct Pro Tools connection – Dual DigiLink connectivity with Pro Tools HD systems and existing Avid interfaces.
· Dante Network Audio enabled – Dual Ethernet ports for Dante Audio-over-IP networking.
· Freely assignable input and output routing.
· Round-trip latency as low as 1.67ms.
· Front-panel instrument inputs.
· Digitally-Controlled Analogue Attenuator on monitor outputs.
· 64 inputs/64 outputs – including 16 analogue inputs and 18 analogue outputs.
· Software Included –Focusrite Control software, Red plug-in suite and Softube Time & Tone bundle.
The Focusrite Red 8Pre will be available from dealers for US$3499.99.
More: www.focusrite.com