Radial Engineering has announced the Shotgun, a guitar-signal distribution amplifier that is able to drive up to four amplifiers simultaneously without introducing the hum and buzz typically caused by ground/earth loops.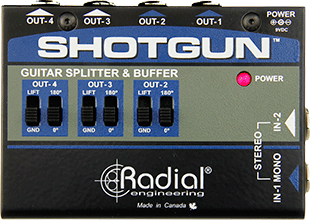 'A few months ago, we had the opportunity to visit with the stage techs that manage Colin James and Joe Bonamassa's guitar rigs,' says Radial Tech Department Specialist, Ryan Juchnowski. 'Colin's set-up is wired in mono, while Joe's set-up is stereo. Both were driving multiple small amps on stage and were experiencing tremendous noise due to ground loops. They both had serious concerns with respect to retaining the guitar signal integrity in concert settings. We thought it would be cool to provide a single solution that would address both needs. The Shotgun is the result of this effort.'
Designed for Hi-Z instruments, the Shotgun may be set up for mono use with one input driving four outputs or in stereo with two inputs driving two pairs of outputs. Each output is individually buffered to lower the impedance and reduce susceptibility to noise. This also permits the signal to run over longer distances on larger concert stages. Output1 is the default that provides a safety ground path to the guitar while Outputs 2, 3 & 4 are transformer isolated to eliminate ground loop hum that is almost always present when using multiple amplifiers on stage. This is supplemented with individual ground lift switches. When used dual as a 1x2 splitter, Radial's Constant Load Correction (CLC) circuit ensures the impedance to the guitar and subsequent tone remains consistent.
Compact and made rugged for the road, the Shotgun employs a standard 9V power supply (not included) or connection from a pedalboard power brick. Top-mounted 180° polarity reverse switches ensure that all amplifiers' outputs can be in phase.
The Shotgun carries a MAP of US$169.99.
More:
http://radialeng.com