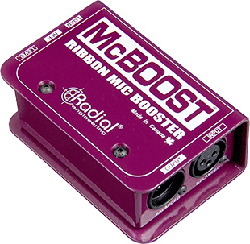 Radial Engineering has released the McBoost – a FET signal booster for low output dynamic and ribbon microphones.
Housed in Radial's trademark all-steel 'book-end' casing, the McBoost uses hand-matched transistors to ensure performance from its dual class-A FET circuit. This delivers up to 25dB of boost via a fully variable front-panel level control. It is supplemented with a three-position high-pass filter to eliminate excessive rumble and proximity build-up. A three-position impedance selector allows optimisation of the load on the mic for greater accuracy or effect. Powering is provided by standard 48V phantom, with connections via standard XLRs.
'We are constantly being tasked to come up with solutions to problems that audio engineers face as part of their daily routine,' says Radial's Jay Porter. 'One such problem is elevating the signal level of a low output microphone so it can perform better with a typical mixing console. The problem is that most mic preamps and mixing desks are only designed to boost the signal by 50–60dB. Although this is perfectly suitable when working with most dynamic and condenser mics, there are instances where more gain is necessary.
'A good example is the Shure SM7. This great sounding mic was designed for broadcast voice so when it is used to pick up lower level signals, the detail is often lost. The McBoost provides the perfect solution. The same applies for older ribbon mics. These tend to have lower sensitivity as a means to protect the ribbon from bottoming out. So they need an extra boost when used with regular preamps – connect the McBoost in between the mic and preamp, turn on the phantom power and you get tons of super clean boost as you breathe new life into old favourites.
'The McBoost is more than just a studio tool. It can be used to drive long cables for broadcast by improving signal to noise and it can bring a condenser-like character to dynamics for both live and studio. Once you plug it in, you will be surprised at all of the great stuff you can do.'
The McBoost carries a MAP price of US$199.99 and is now shipping.

More: http://radialeng.com