Audio sync specialist E-RM Erfindungsbüro has released multiclock – a multichannel, multi-format bridge between DAWs and external (Midi, DIN Sync/sync24 and analogue modular) musical gear.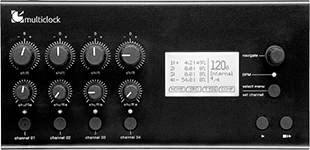 E-RM claims the unit to be a 'one-stop shop for creatively synchronising all kinds of musical equipment to a master DAW with the greatest of ease and precision'. It will acquire a variety of sync signals from an Audio Sync track, as opposed to relying on a Midi Clock. Synchronising multiclock to a master DAW relies on a sample-accurate audio clock stream, which guarantees clocking to within ±20μs. It offers an audio input on quarter-inch jack, to process a sync track generated from the company's downloadable multiclock AU/VST plug-in (for Mac OS-X/Windows). Alternatively, multiclock can be synchronised to a DAW via sync sample, downloadable from the E-RM web site.
Tempo ranges between 30-300bpm, while time signature settings can be changed from 3/8 to 32/8. The unit can shift all four of its output clock channels in real time against each other, and also relative to the master clock. Connectivity comes courtesy of four corresponding DIN sockets, configurable to transmit Midi Clock, DIN Sync/sync24 or analogue clock on each channel. Channel 1 also offers an additional quarter-inch TRS output jack to provide an analogue LFO with various waveforms and a 0-5V range. Modular synth connectivity is accomplished via any channel using an E-RM modular whip to convert DIN sockets to two mini jacks for clock and signal runs. Up to ±300ms adjustment of the of Shift Range allows compensation for slave machine delay, and audio buffer latencies can be accommodated by setting a constant offset for each channel. Additionally, the shift and shuffle knobs can be configured to generate Midi Control Change.
'multiclock is not only a perfect synchronisation solution for live and studio applications, but you can also use it as an instrument in itself,' says E-RM Erfindungsbüro CEO, Maximilian Rest. 'If you get your hands on this machine, you can start playing with the phase of your sounds, effectively changing the timbre of layered tones or setting the groove between individual drum tracks.'
multiclock is priced at €449.00 EUR (Classic version) and €519.00 EUR (USB version).