Aiming to design a
 direct interface that 'conveys the undiminished tone and vitality of the source instrument while balancing and isolating the original signal', Rupert Neve Designs has released the RNDI Active Transformer Direct Interface for use with basses, guitars, keyboards and acoustic instruments.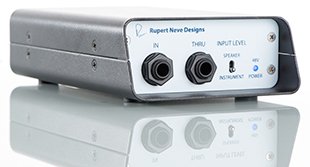 The RNDI uses new custom Rupert Neve-designed transformers and class-A biased, discrete FET amplifiers. The combination of these elements is key to the unit's response, which extends beyond 100kHz.
The low impedance, transformer balanced output is capable of driving long cable runs, and performance is consistent regardless of the connected equipment. The high input headroom of +21.5dBU is capable of handling professional, line level sources without a pad – and, in speaker mode, it can handle the full output of a 1kW power amplifier (92Vrms or 266Vp-p). A quarter-inch thru jack is also included to send the input signal to a separate amplifier if reinforcement is desired.
Another notable aspect of its performance is its phase coherence at all frequencies, providing excellent transient response, and keeping the sound well-balanced and natural. This is especially important when blending the direct signal with a microphone capture of the same source.
The discrete FET amplifier in the RNDI is powered by industry-standard 48V phantom power over the XLR connection. High isolation is achieved through the passive transformer design, and the discrete FET circuitry provides a uniformly high impedance above 2MΩ. A lift switch is provided on the back to help fix any problematic grounding. The rugged steel chassis features an industrial-grade powder coating, and is built to withstand the severe stresses of life on the road.
According to the RND design team, 'the RNDI was fine-tuned over a series of listening tests against the best of the most popular high-end DIs available. Every time we plugged back in to the RNDI, it just seemed to bring the instruments back to life. The lows felt richer, deeper and fuller, and the highs had outstanding clarity without any added harshness. Musically, the RNDI consistently stood out as the DI we wanted to play through.'
The RNDI will be available late January 2015, with a retail price of US$299.
More: www.rupertneve.com