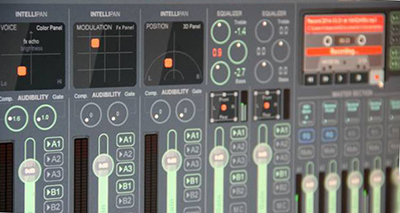 Originally developed for VOIP users and PC gamers to mix voice and music on Skype, Google Voice, Teamspeak and other social platforms, VB-Audio is now targeting radio broadcasters, podcasters and YouTuber broadcasters with its ability to link DVD players, USB mic, ASIO boards, video games and iTunes with audio DAWs.
Voicemeeter Banana combines extensive I/O and a next-gen audio engine to provide routing/mixing via three hardware sound cards and two virtual audio devices in a simple straightforward Windows PC package. It offers effects on all input strips, a master parametric EQ on every bus and a multi-format audio player/recorder. In addition, an integrated Tape Deck will record and play any audio sources or audio files with a single click of a mouse (WAV, AIFF, BWF, MP3 + MP4, M4A, MOV, AVI, WMA, WMV…).
Voicemeeter Banana also offers two virtual ASIO drivers to connect pro audio DAWs, and adds a virtual insertion through a third ASIO driver called Voicemeeter Insert Virtual ASIO. For example, it allows you the use of VST plug-ins through a VST host application like Minihost Modular as an insert on every pre-fader input. In this way, every input can have its own VST plug-in chain to process any audio source before it goes to the final mixer outputs.
VB-Audio is looking for partners to bundle Voicemeeter with VOIP applications, audio DAWs, broadcast solutions, headsets and audio mixing systems.
More: www.voicemeeter.com