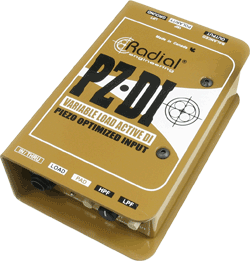 Radial Engineering is calling the PZ-DI its most advanced direct box to date – a direct injection box that is designed to work with 'all types of acoustic and orchestral instruments by enabling you to optimise the input impedance to match the pickup or transducer'.
The design begins with a three-position impedance selector switch to match load and pickup. This includes a 220kΩ setting for magnetic pickups, a 'classic' 1MΩ setting and a super-high 10MΩ setting to eliminate the squawk and peaks that are common with piezo transducers. A variable lo-cut filter eliminates resonance and modulation between instruments at low frequencies, and can also help improve clarity. A hi-cut filter can also be engaged to gently smooth the top-end produced by many active instruments.
The PZ-DI is fully able to function as a standard direct box with front panel quarter-inch input and thru connectors to interface with an electric bass and the stage amplifier plus XLR out to feed the PA. The PZ-DI has 48V phantom power with an internal switching supply that elevates the rail voltage while reducing distortion.
'With bigger and better PA systems in every venue and on every tour, the need to faithfully amplify acoustic instruments has never been greater,' says Radial President, Peter Janis. 'In the past, the sound was masked; today, you hear every nuance. This has spawned a need for a direct box that is equally capable of adapting to piezo transducers as it is to magnetic pickups. Piezos are particularly problematic due to the squawk and peaks that they produce. The PZ-DI is set to easily overcome these problems and is well equipped to help eliminate feedback and resonance caused by low frequencies along with the interaction between the room acoustics and the PA.'
The unit is constructed of 14 gauge steel to eliminate torque and reduce stress on the PC board, while a 'book-end' design creates protective zones around the controls, switches and connectors. The PZ-DI is supported with a three-year transferable warranty and will carry an estimated retail price of US$260.
More: www.radialeng.com