Radial Engineering has introduced the PS4 Cherry Picker, a stand-alone box that enables a studio engineer to readily switch a microphone between four preamps.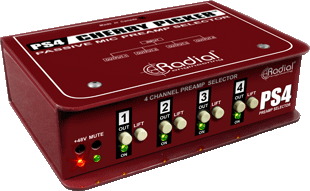 The Cherry Picker is a 'straight wire' passive switcher that features a balanced mic input with four outputs. Front panel 'radio-style' selector switches enable the engineer to select the active preamp, while the unit automatically mutes the others.
Audio signal switching is performed using military-grade gold contact sealed relays.
'We noticed that many studios offer a variety of microphones and preamps to their clients but that switching between them to audition is often cumbersome,' says Radial President, Peter Janis. 'It usually requires muting the microphone, connecting cables at the patchbay and then readjusting the levels. The time delay between tests makes it practically impossible to remember one sonic signature versus another.
'The Cherry Picker lets you instantly audition and compare several mic preamps improving work flow efficiency. Engaging the artist during the preamp selection process increases the comfort level of the artist and this usually results in a better musical performance, improving the sound of the track.'
The Cherry Picker provides 48V phantom power, eliminating the need to switch the phantom power on the preamps. Each output is equipped with a ground lift switch to help eliminate buzz and hum caused by earth loops. A conveniently located front panel mute switch allows the Cherry Picker to be put 'on hold' while a microphone is changed without having to readjust signal levels or mute preamps.
The Cherry Picker ships in November 2012. Estimated retail price: US$400.
See also:
Radial MS4 Gold Digger mic switcher
More: www.radialeng.com