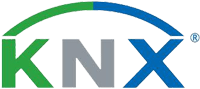 Support for KNX systems is at the heart of a major update to Stardraw.com's system control platform, Stardraw Control.
The result of the convergence of the European Home Systems Protocol (EHS), BatiBUS, and European Installation Bus (EIB or Instabus) standards, KNX is a new (EN 50090, ISO/IEC 14543) network communications protocol for intelligent buildings.
Previously, individual KNX devices would be shown in Stardraw Control's topology view – fine for smaller systems but more complicated when the system contains hundreds of devices. To accommodate larger systems, Stardraw Control now includes a compound (multi-device) driver for KNX systems, so that a single object in the topology view can represent, control and monitor an unlimited number of physical devices. As a result, the time taken to define system configuration is vastly reduced.
Further, the multi-device driver can load in KNX ETS configuration files (ETS is a manufacturer-independent software tool to design and configure intelligent home and building control installations within the KNX system), meaning that all device data for the KNX system, including individual and group addresses, are automatically available to a Stardraw Control system without the need for additional data entry.
The update also includes an IP-KNX driver, which allows Stardraw Control to communicate with KNX devices through any IP-KNX gateway.
'These updates represent a major step forward for KNX system control within Stardraw Control,' says Stardraw CEO, David Snipp. 'You can either use a dedicated driver to communicate with a KNX gateway/controller directly or, by using the new IP-KNX driver, you can use any IP-KNX gateway and tunnel through it to monitor and control the KNX devices in your system directly. In either scenario you can choose to have individual drivers for each KNX device, or use the Multidevice driver to represent every device in the system. It's a huge time-saver and simplifies the process enormously.'
'With these enhancements, the fully integrated control of a system containing KNX devices in addition to other, non-KNX equipment just got even easier,' he continues. 'Stardraw Control is the unifying element in complex systems containing devices that communicate over diverse protocols. With its unique ability to control device over any protocol, Stardraw Control offers a slick, integrated UI that enables you to control and monitor ALL elements of your system, whatever the protocol (infra-red, serial, TCP/IP, KNX etc.) We believe that our multi award-winning Stardraw Control software stands alone as the most advanced, efficient and flexible solution for integrated control of diverse systems containing any KNX-compliant device.'
More: www.stardraw.com