The Stage Series of passive DI boxes from UNiKA Pro comprises two-channel and single-channel models as well as a two-channel isolator.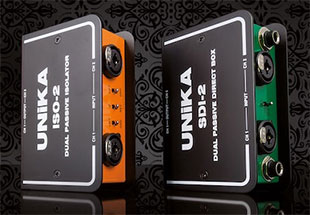 Robust full-metal housings and with most of their controls and connectors recessed, the single-channel SDI-1 and two-channel counterpart SDI-2 are designed to survive many years of demanding stage use. With their passive design, they work without power supplies, with a signal path based on a high-quality transformer that achieves a signal-to-noise ratio of almost 130dB.
A combo connector accepts inputs via jack or XLR plugs, and a jack output passes the unaltered input signal on to an amplifier, for example. The balanced connection to a mixing console or preamplifiers is made via XLR outputs on the rear of the device.
The SDI-1 and SDI-2 are built identically. Both feature additional functionality crucial to practical applications. The input level can be attenuated by 20dB or 40dB to protect subsequent components of the signal chain from overload. The potent attenuation allows the boxes to be used between amplifier and loudspeakers. The ground lift switch on the back eliminates ground loops.
The ISO-2 isolator box affords a quick, easy and sonically neutral way to galvanically separate the signal path, offering an easy and professional solution to eliminating ground loops and hum noise between balanced devices such as submixers, amplifier racks, recorders and vintage gear.
As with the Stage Series direct boxes, the passive signal path features a high-quality transformer, allowing undisturbed operation without batteries, phantom power or power supply. The ISO-2 is also cased in a sturdy metal housing for maximum reliability in demanding stage settings. It provides two channels, with XLR and balanced TRS connectors for inputs, and outputs on XLR. Both channels feature individual ground-lift switches, and channel two can be reversed in its polarity to deal with phase problems.
More: www.unikapro.com