German company UNiKA has introduced the Pro-148 and Pro-248 active DI boxes, offering mono and stereo (dual-channel) interfaces for professional applications on stage and in the recording studio. The units' active electronics are complemented by a specially selected audio isolation transformer.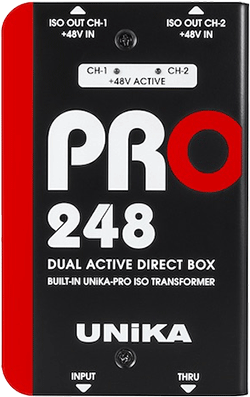 The new DI boxes are aimed at professional use with guitars, bass guitars, effect pedals and other high-impedance signals. The Pro-148 is a mono DI, accepting balanced or unbalanced input via its XLR/TRS combo jacks. The Thru jack output allows forwarding of the input signal to a guitar amplifier or other peripheral. A 20dB pad switch prevents overload from particularly loud sources, while the Ground Lift switch eliminates ground loops.
Pro-248 is furnished almost identically, but offers two channels for stereo signals or two mono sources. The TRS jack inputs work with balanced or unbalanced signals. The DI boxes feature high-performance active electronics. Standard 48V phantom power is supplied via the output cable, with no power supply or batteries required. The transformer used in both was selected though extensive testing and listening for its audio properties. A rubber pad on the underside of the case prevents the boxes from sliding on a stage or studio floor.
The construction of the housing allows quick access to all components in case of service. By loosening four screws, the protective shell can be separated from the inner of the boxes. The part housing all the electronics can be pulled out like a drawer. With all components exposed, the circuit board can be easily serviced and repaired.
The UNiKA Pro-148 and Pro-248 DI boxes from are now available from specialist dealers. The MSRP excluding VAT is €121 for the Pro-148 and €174 for the Pro-248.
More: www.unikapro.com