Studio Technologies has announced the Model 209 Talent Console – 'a unique combination of microphone input, headphone output, remote control, and tally-output resources' for podcast, voiceover rooms and fixed/REMI broadcast applications.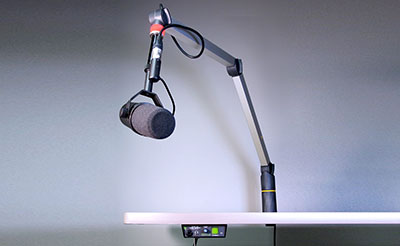 The unit supports AES67 and Dante Audio-over-Ethernet technology for integration into contemporary applications, as well as being compatible with Audinate's Dante Domain Manager software application. An installation requires just a PoE Ethernet connection, a microphone and headphones or an earpiece to establish a complete audio 'position'. Additionally, remote control inputs and tally outputs allow personnel to use the unit in more complex applications.
With a compact enclosure, diverse capabilities and intuitive user experience, the Model 209 can be integrated into a range of basic to advanced podcast applications. By design, the unit is ready for integration with DSP-based processors or remote-control systems. It also offers a high-performance option for REMI (at-home) applications, sports and entertainment events for TV and radio, streaming broadcasts, corporate and government A/V installations, and postproduction facilities.
Model 209 features are configured using the Studio Technologies STcontroller software application. This allows technical personnel to quickly and easily select the unit's operation modes to meet the needs of a specific installation. STcontroller versions are available to support the WinOS and macOS operating systems.
'While originally designed for podcasters, the Model 209 is truly an "all-Dante" solution that can deliver excellent audio in many modern broadcast applications,' says Studio Technologies President, Gordon Kapes. 'It offers a range of configurable features, with a highlight being the unit's compatibility with the m!ca microphone mounting products from Yellowtec. With just two signal interconnections, the Model 209 can directly control both of its LED status indicators.'
More: www.studio-tech.com