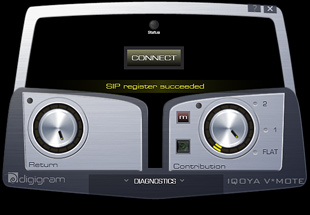 Digigram has released Iqoya V*Mote 2.0, updating its software IP audio codec for journalists/voice talents in remote situations.
V*Mote is an innovative Audio-over-IP SIP software solution for remote contributions that is simply installed on a laptop PC to turn it into a professional 'contribution' codec. The application is extremely straightforward to set up and use, thanks to advanced ergonomics: reporters are able to establish full-duplex connections with studios.
To further extend its user-friendliness, Iqoya V*Mote 2.0 has the ability to edit and save multiple connection profiles, matching different real-life network situations with optimized, custom latency/audio quality compromises. Once connected, users are able to send not just live mic feeds but also pre-recorded audio segments (such as inserts, jingles, news, etc.) sent from third-party applications, thanks to Digigram uLink connectivity included with V*Mote.
N/ACIP (EBU Tech 3326) interoperable since launch (a shared feature for the entire range of Digigram Iqoya IP audio codecs), V*Mote now offers the opportunity to establish links to and from Iqoya *Mobile, its iPhone counterpart, recently announced by Digigram, as well as with any other third-party N/ACIP-compatible IP codec.
Elaborating on interoperability, V*Mote will be a perfect companion to AoIP Production Intercoms as long as they also comply to the ECN-I3P (EBU Tech 3347) recommendation. These features are a true advantage for broadcast professionals involved in complex setups.
On the pure software side, there is 64-bit compatibility with the latest Microsoft Windows OS and the ability to run the software with a 100 per cent software licence (a hardware dongle was required to run previous versions).
Additionally, Digigram-hosted loop-back codecs and a diagnostic mode (providing users with detailed log files) will make initial setups and fine-tunings even easier.
More: www.digigram.com