Klotz has introduced the CATLink product line of rack units, capable of transmitting four analogue audio signals (mic, line), eight digital audio signals (four AES/EBU) or four DMX signals over distances of up to 100m via a network cable with overall shield.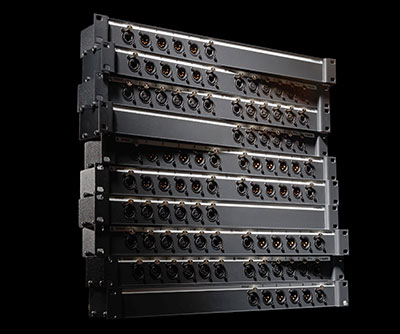 Rugged and robust, the Klotz CATLink 19-inch stagebox line-up comprises eight models, four equipped with XLR 3p sockets for audio applications (AES, Mic, Line) and four with XLR 5p sockets for DMX applications.
On the front panel, the stageboxes are optionally equipped with one or two CATLink modules with four channels each and two etherCon sockets (in/thru) per module. On the rear, they offer an additional, parallel four-channel connection per CATLink module via D-Sub 15p socket, which can be used as input or output. For example, using the front panel XLR 5p connections to Channels 1 & 2 of one CATLink module for DMX, allows it also to be used for audio via the rear D-Sub connector to Channels 3 & 4 via XLR 3p or TRS breakout cable. This guarantees maximum flexibility in professional stage operation.
For the CATLink Rack Stageboxes Klotz offers an extensive range of D-Sub 15p. breakout cables with XLR 5p., XLR 3p. or TRS connectors.
The CATLink rack stageboxes can be used as a small sub stagebox or as a complete multicore system, providing solutions for studios, rehearsal rooms, fixed installations and live events where signals have to be sent to the FOH or submixer and back.
More: www.klotz-ais.com