RME has announced the ADI-2 DAC FS USB audio converter and headphone amplifier, featuring proprietary SteadyClock FS technology.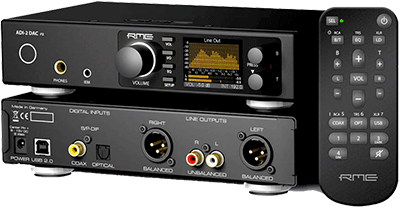 SteadyClock FS claims the lowest jitter and highest jitter immunity currently available. Additions to the ADI-2 DAC unit include improved signal-to-noise ratio providing clear audio along with additional headroom of 2.5dB and an extended infrared remote control. The IEM output has also been improved.
While the basic features and functions of the ADI-2 DAC remain unchanged, the latest version features several revisions increasing the unit's flexibility and usability. The ADI-2 DAC FS uses an AK4493 D/A chipset (previously 4490) to improve the signal-to-noise ratio from 117dB to 120dB (123dBA). Concurrently, the distortion decreases by about 10 dB to -120dB at full digital level. The former -118dBu resulted in freedom from noise at the IEM output, and is now better at -120dBu.
Additional headroom of 2.5dB for the analogue outputs XLR, RCA and IEM also raises the undistorted inter-sample peak limit to +4dBFS.
The new ADI-2 DAC FS also now comes with an extended infrared remote control, the MRC (Multi-Remote-Control) which can remote control up to four different future RME devices (currently only the ADI-2 DAC is supported). The remote control is an extended version of the previous version, with additional buttons designed for the most commonly used functions, including switching loudness, parametric EQ and bass/treble on and off. Additionally, there are keys for direct control of bass, treble and balance.
With these additional keys, all typically used functions of the device are now directly accessible. The four programmable Buttons 1–4, a unique feature already of the original remote, can still be programmed with a personal selection of 32 commands/actions.
More: www.rme-usa.com