Røde Microphones has updated the firmware for its RødeCaster Pro Podcast Production Studio with preset tailored specifically for the Electro-Voice RE20 broadcast microphone.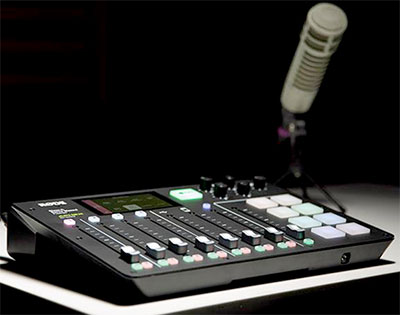 'Electro-Voice is a company that I have known and respected since I started in the audio game, and the RE20 is certainly an iconic microphone,' says long-time fan of Electro-Voice, Røde founder and Chairman Peter Freedman. 'I've been an avid collector of microphones for many years, so you can imagine our excitement when some of the engineers at Electro-Voice recently approached us and asked if we'd be interested in putting a preset for the RE20 on the RødeCaster console.'
Developed in collaboration with the Electro-Voice team, the preset is designed to make the RE20 shine in vocal applications on the console and interact seamlessly with the RødeCaster's audio processing. It can be found in the RødeCaster Pro's audio settings alongside presets for Røde mics (the PodMic, Procaster, Broadcaster, NT1, and NT1-A), as well as the universal presets for dynamic and condenser microphones.
Introduced in 1968, the RE20 is a classic dynamic mic that has been used in countless broadcasts and studio recordings. Its smooth tone and immunity to the bass-boosting proximity effect has made it a favourite among radio hosts, podcasters, and other broadcasters. The release is part of the ongoing enhancement of the RødeCaster Pro's firmware, which has seen the addition of multitrack recording and other features since its release in 2018.
The preset is available in firmware v2.0.4, which can be downloaded from the RødeCaster downloads page.
More: www.rode.com