Targeting broadcast, postproduction and high-end recording as a powerful addition to an existing installation, Merging+Anubis also offers features for studio owners and musician looking for a compact, high-quality AD/DA unit with a fully featured monitor controller that integrates with any DAW.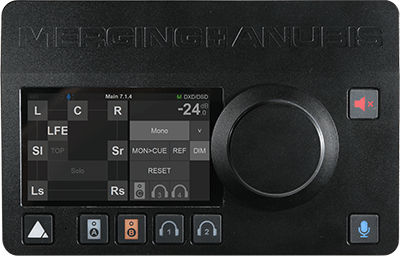 Anubis introduces a new concept of Modular by Software; essentially the same hardware can be used for totally different workflows or what Merging calls 'Missions'. One Mission could be managing multichannel monitoring in the control room and another might be recording in the studio. The Monitor Mission requires control of multiple speaker sets and headphones with built in talkback, bass management and time alignment plus a host of other features that are essential to manage the listening environment. The Music Mission would need low latency mixing, control of cue feeds, innovative plug-ins, high-quality mic preamps and all the features needed to be the essential musician's companion.
This flexibility can be attributed to Anubis being the first home-grown product to use the Zman media transport technology that Merginh is already shipping to OEM customers. As well as managing AES67 connectivity, Zman also has onboard DSP/FPGA processing that provides a host of other programmable features.
Anubis can be thought of as a highly significant enhancement to Merging's Networked Audio Interface range – a standalone 32-bit AD and DA, capable of handling microphone or line level inputs and four analogue line outputs, plus two high-quality headphone outputs. The large rotary encoder allows precise monitoring volume control, and also makes parameter adjustment simple, while the multi-touch display and dedicated buttons provide intuitive selection of whatever needs to be controlled. Built in talkback, cue circuits and speaker management functions make this an ideal unit in any control room.
The power of Anubis is exploited as part of a larger network. Designed to fit into an AES67 or ST2110 environment, it is scalable when coupled with Merging's Hapi or Horus units, or any other AES67 devices. Additional I/O allows Anubis to be the centre of an up to 256 x 256 matrix, with control of incoming and outgoing streams. Anubis also has GPIO or Midi connectivity, drivers covering MacOS, Windows and Linux, Ambisonic decoding and cough cut on every input. It has a line input dynamic range of typically 139dB (A-weighted).
Two Anubis+Monitor models are available – Pro which handles sample rates up to 192kHz, Premium, which supports high-resolution audio up to 384kHz and DXD and all flavours of DSD up to 256kHz.
Practical uses of Anubis+Monitor include monitor control in studios, remote trucks and edit rooms, monitoring incoming AES67 audio streams, recording voice-overs or as a highly portable location recording companion. Anubis can be powered from its own power supply, battery and/or PoE (Power over Ethernet) if redundancy is required and can be placed on a desktop or mounted on a standard microphone stand.
The concept of Modular by Software means the hardware unit can be reconfigured to do a completely different function by loading alternative programs. This changes the UI to suit the workflow and reconfigures the Anubis engine for the chosen program, giving more features. This not only gives added utility, it also offers a simple upgrade path to future applications. Although the Monitor Mission and the Music Mission are planned for 2019, the roadmap allows for several other missions to be introduced in the future to serve a number of different markets.
Anubis carries suggested retail prices (before taxes and import cost) of US$1495 and US$1995 for the Pro version.
More: www.merging.com/anubis