RME has announced the ADI-2 Pro FS professional studio AD/DA converter that offers a USB audio interface, a double headphone amplifier, a high-end AD/DA frontend and headphone amp for iOS devices, a multi-format converter (AES, SPDIF, Adat) with monitoring, DSD record and playback, and an AD/DA frontend for audio measurement up to 768kHz sample rate.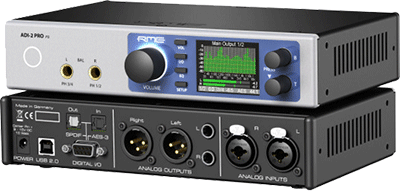 The ADI-2 Pro FS features six input sources and eight output paths for simultaneous two-channel A/D input conversion and four-channel DA output conversion. The unit also includes two servo-balanced analogue inputs on combo XLR/TRS jacks. The unit also features two separate balanced and unbalanced outputs on XLR and TS and two stereo headphone outputs on the front panel, along with an optical SPDIF I/O that also understands Adat and coaxial SPDIF and AES I/O via the included breakout cable.
The two stereo Extreme Power headphone outputs boast high-end monitoring options optimised for low-and high-impedance headphones. The Advanced Balanced mode delivers a balanced signal from the DAC straight to the phone with 3dB gain in S/N ratio, smoothed out deviations in components, optimised frequency response, low output impedance and a maximum output level of +28dBu. With a high-resolution LCD for easy monitoring, the ADI-2 Pro FS also features an AutoDark mode so users can deactivate illuminated elements when needed.
The ADI-2 Pro FS features the ultra-stable SteadyClock FS (FemtoSecond) technology ensuring even lower jitter. With SteadyClock FS, the self jitter of SteadyClock is reduced to even new lows by improving its second, analogue PLL circuit and referencing both Direct Digital Synthesis and PLL to a low phase noise quartz crystal. The self jitter measured through D/A conversion now reaches levels usually only found in master quartz clock mode, while SteadyClock always runs in PLL mode.
The ADI-2 Pro FS is available for US$1,999 MAP.
More: www.rme-audio.de