BAE Audio has announced the PDIS passive direct injection stereo box, based upon the earlier single-channel PDI.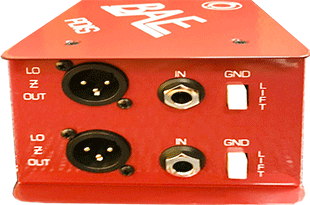 The PDIS is a DI solution for keyboards, stereo guitar rigs and drum machines. It can also function as two independent separate instrument DI channels and handle two mono instruments, such as a guitar and a bass, simultaneously. Tracks recorded with the PDIS integrate with miked sound sources in the mix as is, or are well suited for reamping if desired.
Like the PDI, the PDIS uses an OEP/Carnhill transformer and features Neutrik connectors, including quarter-inch inputs and low-impedance XLR outputs for each channel on one side, with a pair of through outputs for each channel on the reverse side. Known for warmth and clarity, OEP/Carnhill transformers are one of the components that give many BAE Audio hardwire devices their signature sound.
'The PDI has been a huge success for us, bringing the magic of a high-quality transformer to direct signals both in the studio or on stage,' says BAE Audio President. Mark Loughman. 'The dual-channel PDIS design accommodates users who require two channels of smooth direct analogue signal injection in a single box. It's an ideal solution for direct recording of stereo sources, and we're happy to offer the PDIS as at a competitive price without scrimping on quality components and construction.'
Hand-wired in California like all BAE Audio products, the PDIS features100% through-hole components for maximum signal integrity. Recessed switches and connectors combine with a rugged steel chassis to help it stand up to the beating of daily studio or stage use.
More: www.baeaudio.com