Antelope Audio has announced the Discrete 8 Thunderbolt/USB Interface, with 8 Discrete Mic Preamps plus accompanying Edge and Verge modelling microphones.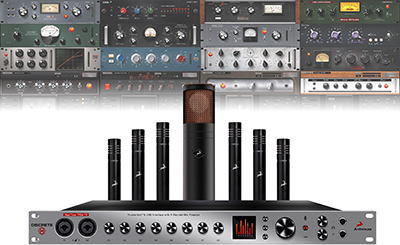 The bundle comes with eight console-grade, six-transistor, fully-discrete design preamps and claims 121dB dynamic range conversion and rock-solid clocking. It includes all Antelope Audio's FPGA FX, including models of gear from BAE, Gyraf Audio and Lang. Antelope Audio's AFX platform enables Discrete 8 to add Accusonic microphone and preamp models, guitar amps, transformer and tube effects, alongside a selection of classic vintage gear.
The front panel features a large monitor volume knob and dedicated HP knobs for each output. A talkback mic is built into the front panel above the talkback button, and can be engaged via the assignable footswitch on the rear, in the EasyPanel software, or via the iOS/Android app. Meanwhile, metering is viewable on the front panel display, inside the EasyPanel and also via the remote app.
As a 26-input/32-output audio interface with eight analogue inputs (A1 through to A8), eight analogue outputs (on a standard 25-pin D-Sub connector), a pair of monitor outputs, two reamp outputs, and a pair of headphone outputs, with additional digital connectivity courtesy of SPDIF in and out alongside dual Adat I/O, Discrete 8 follows extensive research into 'classic' microphone preamp circuitry. Antelope Audio's FPGA engine can transform Accusonic preamps into several classic units via tube, transformer and FET-based circuitry in real time.
A microphone source can be recorded with or without Accusonic modelling, allowing choice of preamp model to be made during mixing. Designed for use with any microphone, the signal path is optimised for Antelope Audio's Edge and Verge modelling microphones, which were both designed for Discrete 8's preamps, featuring matching discrete electronics.
Edge features dual edge-terminated capsules for a smooth/natural sound reminiscent of costly classic microphones. Hand-selected capsules are encased in a carefully-crafted enclosure with contours carefully shaped for optimal performance. As a direct result, it is an exquisite large-diaphragm condenser modelling microphone with excellent transient response and capable of multiple polar patterns.
Verge visibly differs as a small-diaphragm condenser (back electret) modelling microphone suited to both accuracy and high SPL recording. Also exhibiting excellent performance in its own right, it can capably take on the character and personality of the world's best small-diaphragm condensers and electrets.
Discrete 8 can save and load presets and exchange settings with Antelope Audio's line-up of FPGA-equipped audio interfaces, allowing the use of dual rigs for touring, travel and studio.
More: http://antelopeaudio.com