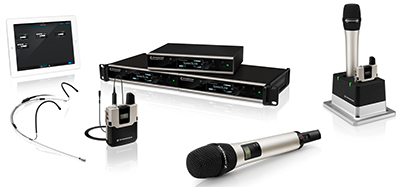 The new TeamConnect Wireless conferencing solution is one of two additions to Sennheiser's TeamConnect family, offering a portable system for up to 24 participants. Sennheiser has also announced TeamConnect Ceiling, an innovative ceiling mounted array microphone for fixed installations.
TeamConnect Wireless is the first 'go-anywhere', wireless audio conferencing system designed to be extremely easy to use for any user. The portable solution is made up of four units linked by wireless DECT connections that allow the system to be set up in virtually any room or table set-up.
TeamConnect Wireless allows users to connect a smart device or computer wirelessly via Bluetooth, with NFC making pairing with compatible devices effortless. Wired connections are also possible via USB or jack cable, making it easy to use with virtually any phone. Uniquely, TeamConnect Wireless supports multiple simultaneous audio channels, so it is simple to bring additional callers into an ongoing conference by connecting another device.
TeamConnect Ceiling expands on the original TeamConnect system, a fixed-installation conferencing system with on-and in-table microphones. The high-quality Unified Communication solution is readily integrated into an existing room infrastructure making it the optimal tool for professional remote conferencing applications. The all-in-one solution TeamConnect is available in bundles that are scalable to several room and team sizes.
More:
www.sennheiser.com