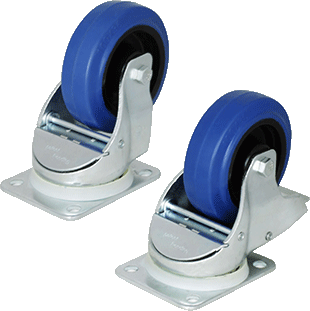 Claiming to have a 'game changer' on its hands, Penn Elcom Online has launched Automatic Castors – a neat and ingenious product to simplify flightcase manoeuvring and stacking.
The castor uses a unique self-centring mechanism, developed by Penn's R&D team, that stops the caster spinning and clicks it into the straight position when it's being lifted or not bearing any load. Simple and ingenious, the device will make stacking case systems and loading trucks at a show or concert faster, easier and safer.
Penn's Automatic Castor technology is currently available for both braked and non-braked versions of their industry standard 'heavy duty' 10mm/3.94-inch castor which comes with 27mm/1-inch wide blue rubber tyre. Automatic Castors are straightforward to retro-fi on any standard castor wheelbase for additional flexibility.
'We had an instant response and have experienced massive interest,' says Pen Elcom Online's Rob Platt. 'It's one of the simplest but most innovative products Penn Elcom has ever developed and brought to the market and it's well priced, so we are expecting it to be a best seller,' he concluded.
More: www.pennelcomonline.com