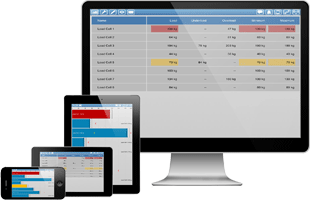 UK-based automation specialist Kinesys has released LibraWatch, a free multi-platform load-monitoring software app which works with Windows, Mac, iOS and Android operating systems. The application integrates with the company's LibraCell, LibraPro and LibraWIFI.
LibraWatch offers a flexible and fully mobile solution designed so load information can be viewed quickly and clearly via a wired network or through a LibraWIFI wireless connection on multiple portable and hand-held devices. Once installed on a computer, tablet or smartphone, LibraWatch enables the load data of a rigged installation – using compatible Kinesys products – to be seen in tabular, graphical or plan formats.
Users have the freedom to move freely around the venue or working space and still have direct access to load data on a flown rig.
Overload, underload and custom alarms and warnings can be viewed simultaneously on multiple devices, giving complete control over the integrity and safety of a rigged system in real time. Key parameters can also be edited remotely – access permitting - and two levels of password protection can be set to regulate viewing/editing access and permissions.
A LibraPro power supply is connected to LibraCell shackles via daisy-chained XLR4 cables. The information gathered by the LibraPro is then passed to the LibraWIFI unit via an Ethernet connection, enabling data to then be retrieved wirelessly.
LibraWIFI's inbuilt Firewall ensures that only Kinesys applications can access the Libra network, so the load data and measurements displayed by LibraWatch are accurate, safe and reliable.
LibraWatch can be downloaded from the Apple Store for iPhone and iPad, from Google Play for Android devices and from the Kinesys website.
More: www.kinesys.co.uk