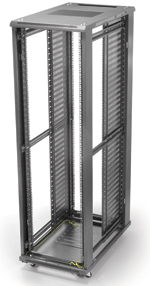 Canford has launched a range of pre-configured racks and enclosures under the Enclosure Systems name, which it has recently acquired.
Established in the data systems sector, Enclosure Systems new range of racks is aimed at Canford's core broadcast and systems integrator customer base. Various sizes of rack are available, along with an extensive range of compatible accessories many of which are manufactured by Canford.
The new preconfigured racks offer enclosures of up to 47U high and up to 1m depth, capable of accommodating bulky servers and broadcast equipment. They feature additional, adjustable, intermediate rack strips located between the front and rear rack strips to allow location of support angles or the mounting of additional equipment to the centre and rear that does not require immediate accessibility. A comprehensive array of high quality supporting accessories includes a choice of more than 300 powering units, trays, shelves, fans, plinths, doors and panels.
'The new range is squarely aimed at broadcasters and is intended to build upon the existing success of Enclosure Systems in the data and related sectors,' says Canford Marketing Director, Dave Holloway. 'We are offering a standard range and alongside it a custom service that our customers will be able to fully specify. While nominally the pre-configured range comes pre-assembled, we are able to supply additional components and accessories to permit customers to take a :flat-pack: kit and assemble a rack to the same specifications on site where the location does not permit the deployment of a fully assembled rack.'
See also:
More: www.canford.co.uk