Part of the Classic line from Romanian studio furniture specialist Zaor, the Maestro Solo 12+6 advances the company's concept for sidecars that complement main desks and mixing consoles to accommodate outboard.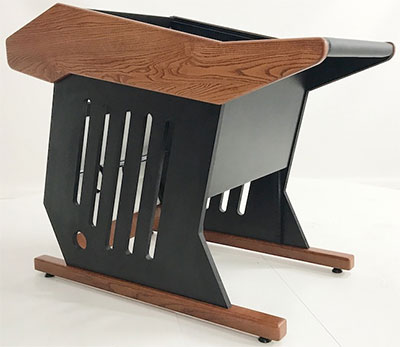 As a sidecar, the Maestro Solo 12+6 offers 12 rack units' space at the top and six more at the bottom to hold analogue and digital treasures in a construction that is 'both outstandingly practical and mesmerisingly beautiful'. The firm wood construction is airy enough to allow for ideal ventilation of analogue 19-inch processors. The entire design is optimised for acoustic performance.
While it functions as a side rack for rackable gems, the Maestro Solo 12+6 retains the ergonomic qualities of a producer desk, allowing easy access and great overview. As part of the Classic line from Zaor, the Maestro Solo 12+6 is made from high-quality wood and MDF, handcrafted by specialists in the company's own workshop.
'Its luxurious appearance and elegant finish are indicative of the gear it was designed to hold – legendary dynamics and spectral processors will look right at home in the Maestro Solo 12+6,' the company says. 'Along with its sibling desks, the Maestro 36 and Maestro 24, and other desks from the Classic line like the Onda, the Maestro Solo 12+6 marks the top range in the Zaor catalogue – a fine example of how well-made furniture can enhance a studio in both look and feel.'
The Zaor Maestro Solo 12+6 is available immediately in cherry, oak and silver, combined with matte black. The MSRP is €1,449(including 19 % VAT).