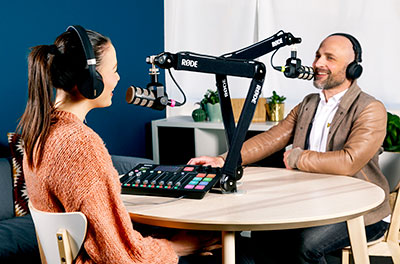 Røde has released the PSA1+ professional studio arm, 'combining sleek looks with completely silent operation and peerless stability' for podcasters, streamers and broadcasters.
The PSA1+ builds the original PSA1 professional studio arm, adding features and an innovative new design. It features a parallelogram spring design that has been engineered to ensure movement is smooth and steady, even with very light or heavy microphones.
This mechanism keeps the microphone placement constant when moved so it can be positioned with ease. The internal springs are fully damped and the arm features a high-quality neoprene cover for further reduction of noise generated by movement. Additionally, the PSA1+ is equipped with rubber contact points for isolation from knocks and keyboard clicks.
The PSA1+ is aimed at any recording scenario, from home gaming to professional broadcast studios. It can support a wide microphone weight range, from 94g up to 1.2kg, with extended reach and full 360° rotation making it easy to position the microphone. It also features an integrated cable management system for both XLR and USB cables.
Both end-address and side-address microphones are accommodated by the flexible mounting system and the arm is compatible with all standard shockmounts. A threaded desk mount and sturdy desk clamp are included, making it a breeze to integrate into any home or professional studio, and the arm comes pre-assembled, ensuring it is easy to set up and use.
Key features:
Innovative parallelogram spring design.
Completely silent operation with fully damped internal springs.
Rubber contact mounts for isolation.
Extended reach and 360° rotation.
Supports microphones from 94g to 1.2kg.
Integrated cable management system for both XLR and USB cables.
Compatible with all standard microphones and shockmounts.
The PSA1+ is shipping worldwide now.
More: www.rode.com