In the form of the Dual 15-800, Dual 15K-800, Dual 15L-800 and Dual 15KL-800 workstations, Argosy Console's Carl Tatz Edition studio furniture has been optimised for pairing with Carl Tatz Designs' PhantomFocus monitoring.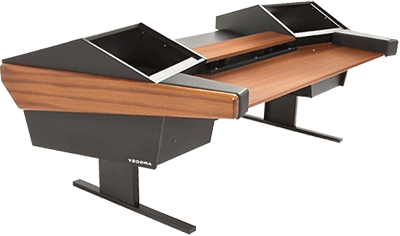 Adding a mahogany desktop and end panels, the Dual 15 Workstation with 800 rack modules are widely used as part of control rooms, and are frequently a key element when installing the proprietary CTD PhantomFocus System. The desks' minimum reflection architecture – and hence acoustic performance – assists in delivering unusually accurate monitoring.
'The Carl Tatz Edition Argosy Dual 15 Workstation is just plain gorgeous and the fact that it is acoustically paired with my PhantomFocus System monitoring makes it all the more a pleasure to work on.' says engineer/producer and Cool Springs Mix owner Bob Bullock (Shania Twain, George Strait, Reba McEntire).