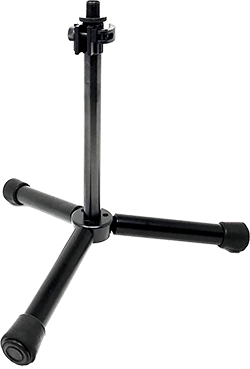 Minnesota-based Latch Lake Music prides itself in making pro-grade mic stands that are 'easy to manipulate, rock-solid and eminently trustworthy'.
The latest addition to the Latch Lake catalogue is the micKing 550, the first model in the all-new micKing Series. The micKing 550 and is suited to use with guitar cabs and other close-miking. True to its heritage, the micKing 550 mini is super reliable, and thanks to the new fixed-tripod base, is easy to set up and adjust.
Over coming months, Latch Lake Music will add to the micKing 550 Series. With interchangeable leg lengths to suit a whole range of applications, this series will be aiming itself at commercial and home studios alike. Adding on to the flexibility of this series, Latch Lake will create boom versions as well as straight masts.
'What we wanted to do was bring an affordable, general purpose stand to the Latch Lake Music range, but built to the high standard our customers are used to,' explains Latch Lake COO, Dave Roberts. 'Our groundbreaking fixed-tripod base makes the new series ridiculously simple to set up. The new mini is fast, rock-solid reliable, and perfectly sized for close-miking. As with all our products, the micKing 550 Series are covered by Latch Lake Music's lifetime warranty.
More: www.latchlakemusic.com