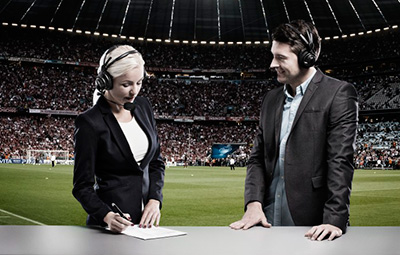 Sennheiser has released the 27 series circumaural broadcast headsets – the HME 27 with electret microphone, HMD 27 with dynamic microphone and the HMDC 27, which is additionally fitted with NoiseGard active noise reduction. All headsets in the 27 series comply with the EC directive on noise in the workplace, and feature a fully modular design that is compatible with its sister line, the 26 series.
'The 27 series is our latest offering for commentators and high-quality intercom use,' says Broadcast & Media Product Manager, Nicole Fresen. 'Extensive field tests with broadcasters have shown that these models are outstanding in their combination of effective noise isolation with excellent comfort for the wearer.'
The 27 series of closed, circumaural headset models are lightweight and compact to remain comfortable over long working periods. Soft earpads have been combined with Sennheiser's 'split' headband, which opens automatically when the headset is put on and keeps the sensitive fontanelle area of the head free from pressure. For users who prefer a conventional headband, a wide headband padding is included that converts the two-piece headband into a single piece.
All three headsets comply with the EC directive on noise in the workplace, as they are fitted with a switchable ActiveGard function that protects the commentator against noise bursts. ActiveGard reliably detects noise peaks above 110dB, and immediately compresses the signal to 110dB, ensuring that any transmitted information remains fully comprehensible.
The 27 series headsets are fitted with high-quality microphones designed to minimise the pick up of noise in loud environments: The HME 27 has a pre-polarised condenser microphone with cardioid pick-up pattern (frequency response: 40Hz to 20kHz), while the HMD 27 and HMDC 27 possess a hyper-cardioid boom microphone with a frequency response of 40Hz to 18kHz.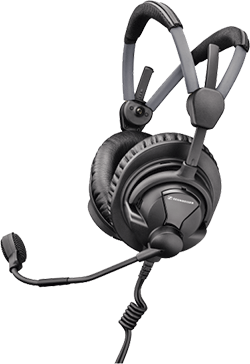 The headphones have a wide frequency response of 8Hz to 18kHz and a THD below 0.1% (measured at 1kHz, 100dB SPL). They are fitted with a special cable, which has a small number of coils near the earcup that acoustically decouple the headphones from handling noise that would otherwise be transmitted through the cable.
The HMDC 27 with switchable NoiseGard active noise reduction is an ideal choice for commentator and camera work in loud environments. NoiseGard does not only increase intelligibility, it also protects the user's hearing and avoids noise-induced stress and fatigue.
For ease of operation, the active noise reduction does not require batteries but is powered via the P48 power supply from the broadcast desk. This is the only commercially available broadcast headset with ANR that has such convenient The design of the headsets is fully modular and compatible with the supra-aural 26 series, so that any existing cables can additionally be used with the new sister models. As the microphone booms are also compatible, broadcasters can ensure a consistent sound profile where both the 26 and 27 series are used.
Availability of the HME 27, HMD 27 and HMDC 27 is imminent.