Røde has announced its debut into the headphone market with the launch of the NTH-100 professional over-ear headphones. 'We developed these headphones from the ground up with avid attention to every detail and an obsession with perfection, and we are incredibly proud of the outcome,' says Røde CEO, Damien Wilson. 'It is with absolute confidence that I say the NTH-100s are the best in their class. If you're a creator looking for your first headphones or a seasoned professional still on the hunt for the perfect cans, your search is over.'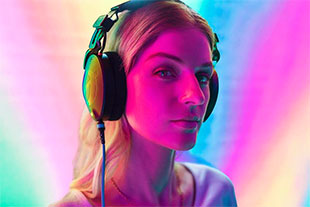 The NTH-100s design is intended applications ranging from content creation at home, in the studio and in the field, to podcasting and livestreaming, location recording, and video production or editing. It features custom-matched 40mm drivers based around a custom voice coil with a four-layer ultra-high-tension aluminium alloy as its core, which is coupled to an ultra-stiff triple-layer Mylar diaphragm. Together with a rare-earth neodymium magnet, these components are claimed to offer optimal acoustic and electrical performance, with extremely low levels of distortion and a highly accurate response across a broad frequency range.
A contoured earcup has been engineered to not only be comfortable and also acoustically optimal, eliminating standing modes and frequency resonances for a more immersive listening experience. The earcups feature high-density memory foam for high sound isolation. The result is passive attenuation of external noise and no issues with spill when recording in close proximity to a microphone.
The NTH-100s feature Alcantara on the earpads and headband – an high-quality material typically used in sports cars and high-end fashion. Underneath the Alcantara is a layer of proprietary CoolTech gel, which absorbs and dissipates heat, actively cooling the head and ears to reduce wearing fatigue.
The cups are contoured to the shape of the ears, with bi-directional movement and memory foam giving the headphones a custom-fit feel for any head size or shape (even for people who wear glasses). The headband is fully adjustable and features a FitLok locking system, which secures the earcups in place.
There are cable attachments on both earcups, so the cable can be positioned where is most comfortable and convenient, with a locking connector for each attachment, ensuring complete security if the cable is tugged or pulled. Left and right earcup identification uses luminous letters, colour-coding and braille.
Each pair comes with a 2.4m straight black cable that is lightweight and unobtrusive, with 1.2m and coloured variants (pink, green, orange and blue) available separately. Also included are a storage pouch, a 3.5mm-to-quarter-inch adaptor for use with professional audio equipment, and a set of coloured ID rings for cable identification (these are matched to the channel colours of the RødeCaster Pro and Røde Connect).