Lake People's slogan of Tools, not Toys extends to its new G105 Mk II headphone amplifier.
The G105 Mk II now drives headphones of choice with an output of up to 2,300mW. Crosstalk attenuation and signal-to-noise ratio have been further refined to ensure a clear, unaltered sound image.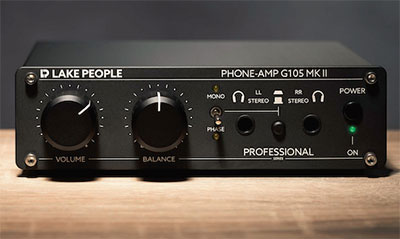 With five switchable pre-gain levels of -6dB, 0dB, +6dB, +12dB and +18dB, the G105 Mk II drives every headphone at its optimum and allows for a comfortable amount of travel of the volume pot. High output voltage perfectly feeds high-impedance headphones, while the ample amount of output power gets the best out of low-impedance headphones and even magnetostatic models.
The G105 Mk II connects to unbalanced or balanced sources via RCA or XLR inputs, with the source being selectable via a switch. The innovative split circuit distributes the stereo input channels to each of the two headphone outputs in mono, allowing two musicians to be addressed with different mono monitor mixes. The balance pot adjusts the volume difference between the two headphone outputs. The G105 Mk II also features a toggle switch that sets the input signal to mono or reverses the phase of one of the stereo channels.
All Lake People products are designed and manufactured entirely in the company's facility near Lake Constance, including the new G105 Mk II. Its carefully selected components are assembled by highly trained specialists to create an circuit design in a compact enclosure made from black anodised aluminium.
The G105 Mk II will be available from specialist dealers from February 2022 at an MSRP of €404.19 (excl VAT).
More: www.lake-people.de